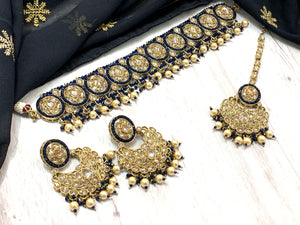 Product description:
A stunning coloured chocker, beautifully embedded with coloured (navy blue and green) beads at the edges and around the gold polki stones creating a round shape. The dropping pearls are the complimentary part of this necklace. The chocker comes with matching earrings and tikka. This beauty comes matching earrings and tikka. This item is a set of 4 pieces.
Available in navy blue and teal green. 
Dimensions:
Necklace Width- 4.5 cm with 25cm adjustable string.

Earrings- Width- 4 cm with dropping pearls Length- 6.5 cm with dropping pearls.
Tikka- Width- 4 cm Length with dropping pearls- 21 cm dropping pearls 
Material:
Rhodium plated to avoid metal tarnishing.